A little while ago Yelp announced that they are now showing "Consumer Alert" warning messages on the profile pages businesses that it says it caught trying to buy reviews.
As the New York Times reported back in October, Yelp conducted a sting operation in which one of its employees pretended to be an "Elite" reviewer and responded to review solicitations on Craigslist. As the article explains:
A pest control company offered $5 to anyone who would post a review that the business itself had written. The moving company was willing to pay $50 but wanted original copy. An appliance repair shop provided a start: "I really appreciate that the service tech was on time, the problem was solved, everything was cleaned up and he was very professional. Please add 50 or more words," the shop suggested. It would pay $30.
The highest payment was offered by a jewelry store in San Diego, which said they was forced to solicit reviews after others got away with doing it. "We have noticed that some of our larger, corporate run competitors have been unfairly trying to get reviews written for them on Yelp, which puts us at a disadvantage," wrote Bert Levi of Levi Family Jewelers. He said he would pay $200 for a review of a new custom-designed ring.
This warning is now showing — and will remain for three months — on the Levi Family Jewelers profile page on Yelp, and on the pages of other businesses that Yelp says it caught trying to buy reviews: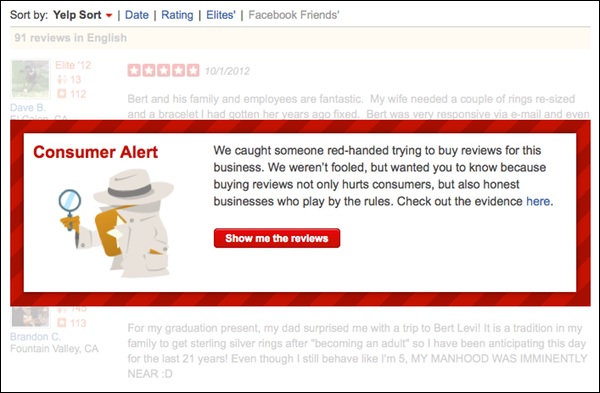 Unfortunately this is a result of how competitive the reviews space is right now and how desperate business owners are to get positive reviews. The problem is perhaps worse on Yelp due its review filter, which can be very hit and miss when it comes to choosing reviews to show or hide. This is certainly not a problem that only Yelp faces, as business owners can buy reviews for Google+, Amazon, app stores from various sites often for very little money.
Eric Singley, Yelp's VP of Consumer and Mobile Products, tells the Times that the group of eight businesses that were outed in October "is just a sample" of businesses that are soliciting reviews. Hopefully Yelp and other review sites can continue to improve their algorithms to so to filter out the fake reviews and prevent the gaming of the reviews.
Here's a tip on how to get customers to leave reviews on your Yelp or Google+ pages.